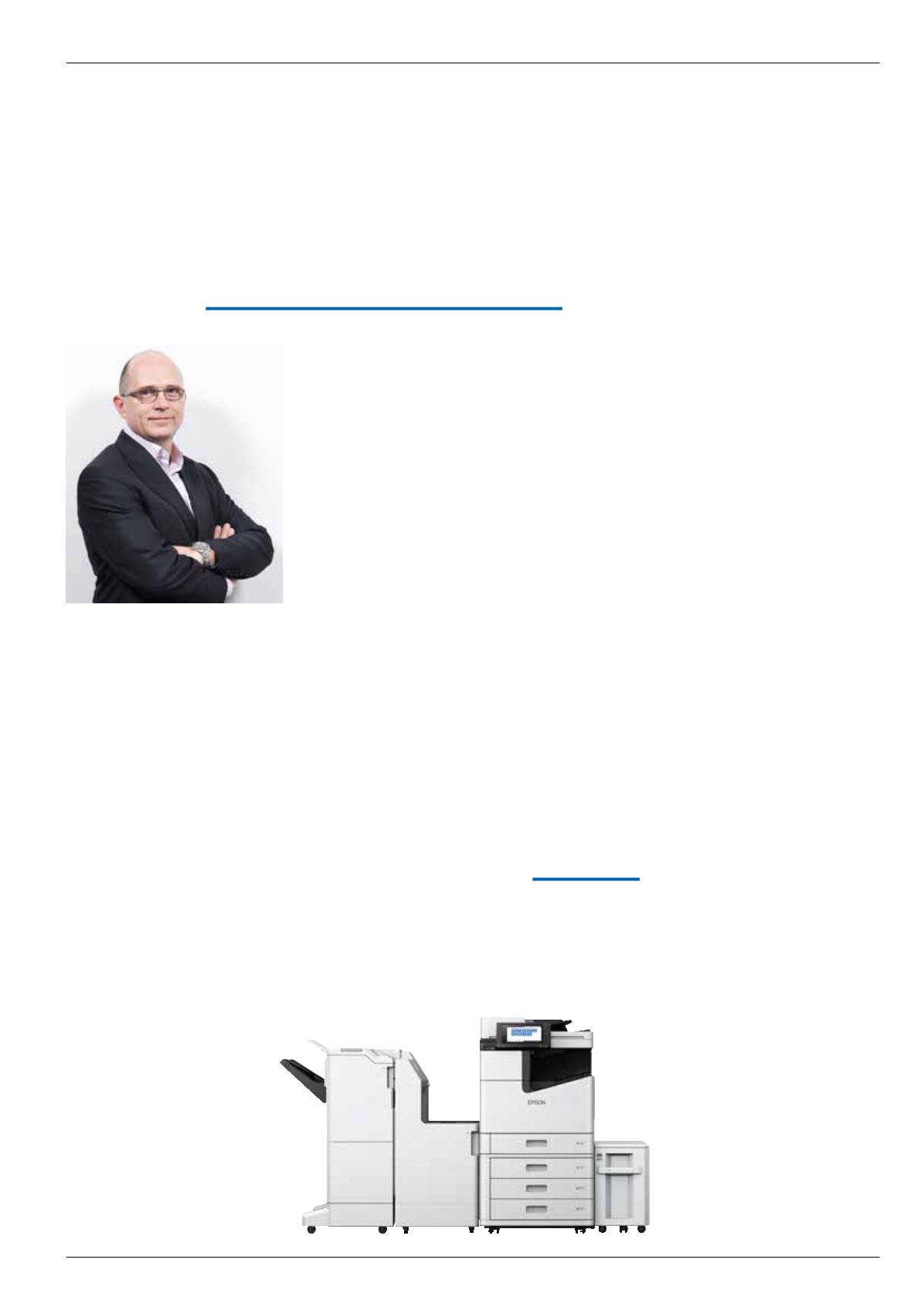 piezo inkjet technology. How are
you developing the technology
to ensure it continues to meet
two or three years, maybe slightly
longer, Epson has been challenging
preconceptions about what inkjet
printing is and is not capable of.
In the consumer marketplace, we
launched a product called EcoTank
– a new version of which we have
just launched at IFA – with the
intention of turning the business
model on its head. Rather than
selling low priced hardware and
then recouping money over the
lifetime of the product through
cartridge sales, we charge more
upfront for the hardware (which
comes with extra-large ink tanks
containing up to three years' worth
of ink) and charge very little for
In the office market, which has
traditionally been dominated by
laser technology, we have taken the
high quality, high precision printhead
used in our commercial devices and
incorporated it into office devices.
Unlike a consumer printer, which
has a printhead that moves back
and forth across the page, our
PrecisionCore technology combines
multiple heads in a fixed array
spanning the width of the page. The
only thing that moves is the paper,
which is how we can achieve such
high print speeds, and the quality is
assured because we use high end
responded to these developments?
Have they been successful for you?
On the consumer side, the
market for ink cartridge products is
reasonably flat, but where we are
seeing growth is with our EcoTank
product. This new business model
seems to have caught the attention
of a lot of people and, so far, we
have sold about 20 million of these
products globally. It answers a lot
of the questions that were asked
about inkjet technology and the
business marketplace and, to
date, we have been selling into the
lower end of the business market.
But now, with the introduction of
the WorkForce Enterprise series,
we have an enterprise-level
multifunction device that will allow
us to take more of that office
space. There are two versions of
the Enterprise product, a 100ppm
version and a 75ppm version, and
you can specify it as a standalone
product or with a finisher.
PrintIT
talks to Rob Clark,
managing director of Epson
UK and senior vice president
of Epson Europe, about
the company's evolving
printer offering
What targets have you set
yourself and are you confident that
you will be able to hit them?
I've worked with Epson for 25
years and a couple of years ago
I was made senior vice president
for Europe. The target I set myself
then was to grow the business from
1.5 billion euros, which is where we
were in 2014, to 2 billion euros by
To achieve that I calculated that
I would need to grow the business
by approximately 80-100 million
euros a year. I could see some
growth potential in projection and
in emerging territories, but by far
the biggest opportunity lay in the
office marketplace. IDC projects
that market to be worth around
38 billion euros in EMEA. If I can't
generate a reasonable amount
of revenue from a 38 billion euro
market, there's something wrong.
office market coming from?
Our biggest expectation is
that the office print market will
shift from laser to business inkjet
technology, because business
inkjet, as well as delivering the
same commercials as laser – cost
per page, total cost of ownership,
that kind of thing – has a strong
ecology message, with big
reductions in CO2 and the amount
of waste that's produced. These
aren't small reductions of 5%, 10%;
they are significantly different – a
92% saving on waste, a 94% saving
Interest in the ecological benefits
of business inkjet does vary from
country to country; Germany is very
sensitive to ecological messages,
the UK less so. However, that is
changing. The fact that we can
deliver such a big energy saving has
an ecological benefit, but people
also recognise that it will help
them reduce their energy bills. If
you've got one printer, it's probably
not going to make that much
difference, but if you're running a
fleet of printers, which a lot of our
customers are, then it starts to
make a significant difference.
At the start of the year, Epson extended its business
inkjet concept to the enterprise market with the launch
of its WorkForce Enterprise MFPs