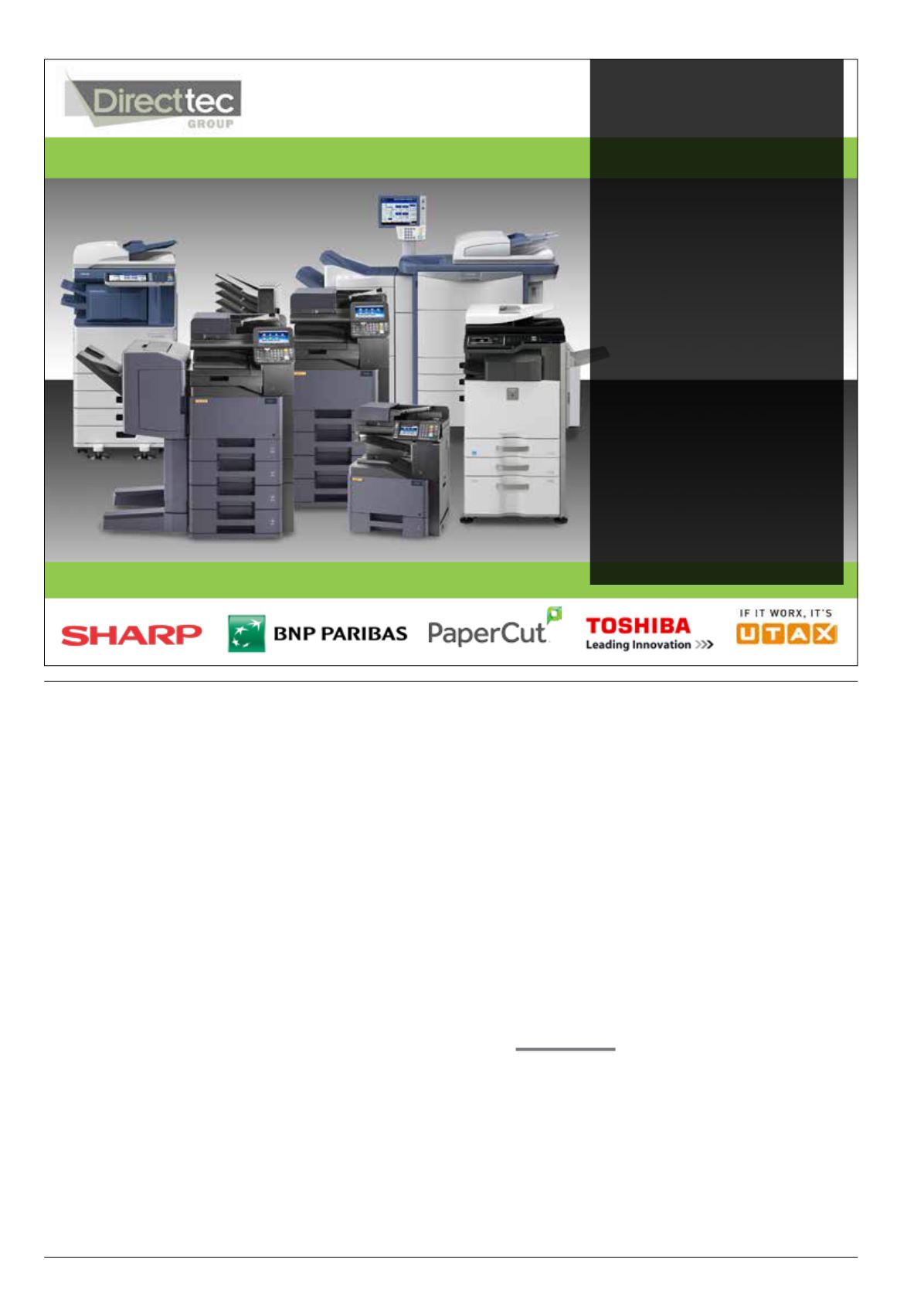 single pass duplex scanner so that
before they are erased temporary
documents can be saved as
JPEG, TIFF or PDF files and stored
on a company's server or in its
document management system.
After digitisation, documents are
erased through the application of
heat, which turns the toner from
blue to clear. The paper is then
sorted into reusable and non-
reusable stock and placed in the
appropriate output cassette. The
entire process – archiving, erasing,
sorting – is done automatically and
takes just a few seconds.
When it comes to printing, users
can select whether to print in B&W
or erasable blue toner, or they can
let the machine decide for them.
Toshiba's rules-based printing
system enables administrators
to apply multiple rules so that
emails, for example, or faxes
are automatically printed in blue
toner. The machine's ability to
switch automatically from one
mode to another depending on the
application being used simplifies
operation for end users and
ensures that businesses maximise
the environmental benefits of their
These are potentially quite
substantial. BSI, which verified that
the e-STUDIO5008LP series meets
ISO 14040 and ISO 14044 Life
Cycle Assessment (LCA) standards,
compared five-year LCA calculations
for the new MFPs to Toshiba TEC's
regular MFPs and found that
printing and erasing a page with
erasable blue toner five times cuts
CO2 emissions by 57% compared
to printing five black prints.
Spencer points out that there
are also long-term financial benefits
from reduced paper consumption
and associated storage, distribution
"There is a small cost premium
on the price of the engine, but
that's easily outweighed by the
resultant cost savings on paper,"
he said. "Assuming that you use a
sheet of paper five times and that
you print 4,000 erasable pages
per month, you can reduce paper
consumption by up to 80%. This
means that after five years you will
have saved almost 200,000 sheets
of paper. In other words, the same
amount of paper that you would
usually use in one year will now last
Users can track and monitor the
benefits of their devices through
e-BRIDGE Paper Reuse Reports.
The original Eco Copier was an
interesting addition to Toshiba
TEC's range, even if it didn't sell
well. It is to Toshiba's credit that
they have further developed the
technology and created a new
series of MFPs that provides a
more practical solution for eco-
With further additions to the
range likely to be launched in 2018,
the e-STUDIO5008LP series is
certainly worth a closer look.
Your Partner in Business Technology
Unique 24/7 service portal where customers can request an engineer or order supplies
Direct-tec are an independent
provider of high quality innovative
print and document centric
solutions incorporating products
leading technological brands for
But what really makes us different
is the exceptional level of account
excellent and efficient customer
service. Our mission is to
consistantly provide our customers
with cutting edge technology to
directly impact on operational
Contact us today to see how we
can start to save you money and
improve business efficiency.
Tel: 01959 568300