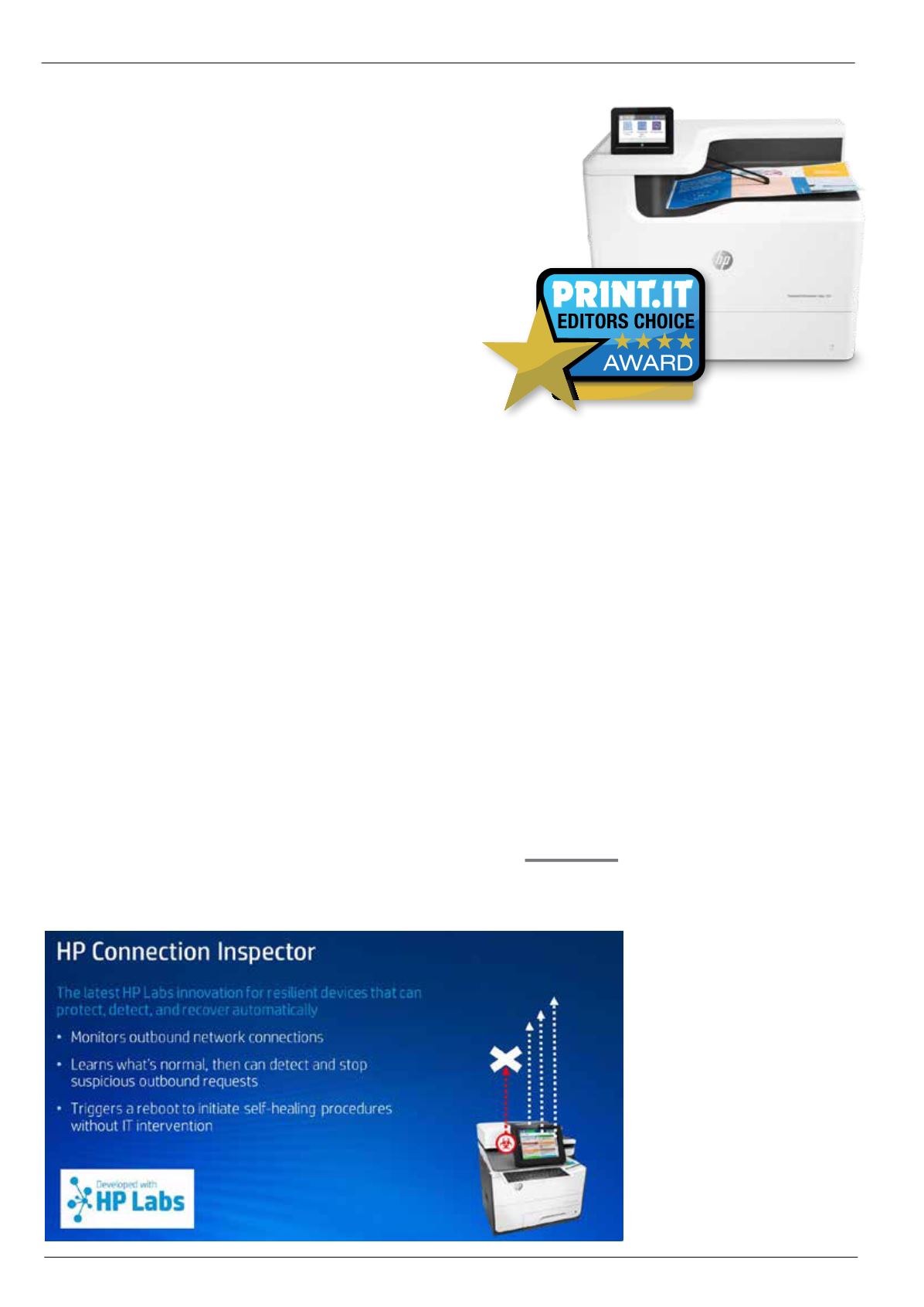 At the HP Reinvent World Partner
Forum 2017, which took place last
month in Chicago, HP invited print
partners to 'Reinvent How the
announced both a number of new
services to enhance printer security,
mobility, servicing and support
and the long awaited availability of
the first A3 devices to feature HP
PageWide inkjet technology, originally
flagged up in September 2016.
In total, HP is bringing out
seven A3 colour devices based
on PageWide technology, an
economical, energy-efficient, low
maintenance alternative to toner
for the production of professional-
quality colour documents.
The printers and MFPs are
available now, in different versions
for transactional (Pro) and MPS
(Enterprise) channels and in a
variety of configurations.
Enterprise models are faster
and benefit from additional security
features, including HP Connection
Inspector, which will form part of
a FutureSmart firmware update
due to be released later this year.
From Spring 2018, they will also
offer improved device monitoring
and support through Smart Device
Services 2.0 (see below).
New Enterprise devices include
one printer and two MFPs:
General Office mode, 4.3in colour
touchscreen and 1,200 sheet input,
expandable to 4,000 sheets; and
General Office mode, 8in colour
touchscreen, 4,000 sheet input,
four-corner stapling and offset
stacking, and HP Scan and I.R.I.S.
Readiris Pro OCR software for
capturing and editing text from
Transactional Pro models include
two printers and two MFPs:
printer – 55ppm, wireless;
– 55ppm in General Office
mode, 4.3in colour touchscreen
and 1,200 sheet input, expandable
– 65ppm in General Office
mode, 8in colour touchscreen,
The availability of PageWide
technology in A3 devices is a
significant development for HP,
which since September 2016 has
been building a partner network to
take them to market, in addition
to HP direct sales. The benefits of
PageWide technology, combined
with HP's existing and newly
announced security, mobility and
device management capabilities,
really do have the capacity to
'reinvent how the world prints'.
HP also announced a number of
other hardware devices including
workflow scanners, the Digital
Sender Flow (A4) and the ScanJet
Enterprise Flow (A3), and colour
laser printers/MFPs for consumers
and micro-businesses, the HP Color
LaserJet Pro MFP M180/181 series
and HP Color LaserJet Pro MFP
M280/281 series printers with
JetIntelligence cartridges and easy
mobile printing via HP Smart App.
PageWide technology is not the only
way HP is differentiating itself in a
crowded market. It has also made
printer security a key selling point,
with features like HP Sure Start,
Run-time intrusion detection and
whitelisting embedded within its
This autumn, it is enhancing
printer security further with the
launch of HP Connection Inspector.
Created by HP Labs, this intelligent
embedded security feature inspects
outbound network connections,
which HP claims are typically
abused by malware. It determines
what activity is normal and stops
anything that looks suspicious.
If a printer is compromised,
HP Connection Inspector will
HP PageWide A3 devices launched with added security features
and, from next year, enhanced monitoring and support