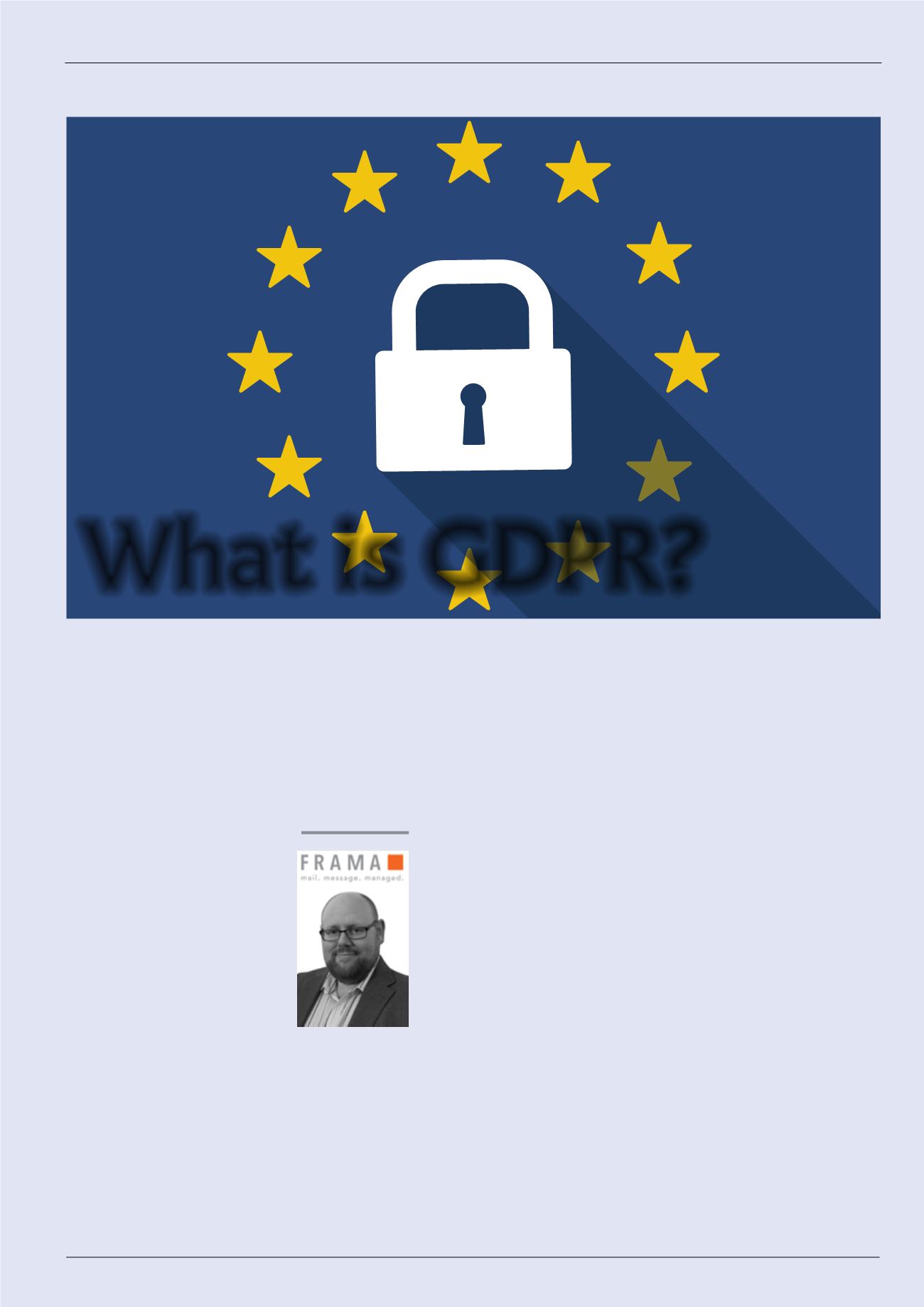 The General Data Protection
Regulation (GDPR) (Regulation
(EU) 2016/679) is a regulation by
which the European Parliament,
the European Council and the
European Commission intend
to strengthen and unify data
protection for individuals within
the European Union (EU). It also
addresses export of personal data
The regulation was adopted
on 27 April 2016. It enters into
application 25 May 2018 after
a two-year transition period the
Government has confirmed that the
United Kingdom's decision to leave
the European Union will not affect
the commencement of GDPR.
The GDPR will provide a single
legal framework which will apply to
all members of the EU, streamlining
and hopefully simplifying what is
currently a mix of laws for each
member country. Directly concerned
with the collection, storage and use
of personal data, this will impact
every business that holds any
personal data in any format.
How will it affect your business?
If a business collects, stores or uses
personal data then the GDPR applies
and now there is an obligation for
compliance, with serious penalties
We are confident that most
companies will already be looking at
how they acquire, store and manage
personal and sensitive data.
that many organisations are not
aware of the risks concerning the
transmission of this data between
internal employees and external
Are you able to answer the
What measures are currently
in place for sending sensitive
personal/financial data via email?
How does your business prove it
is compliant in this situation?
Non-compliance may leave you
open to substantial fines under
the GDPR. Article 83(5)(a) states
that infringements of the basic
principles for processing personal
data, including the conditions
for consent, are subject to the
highest tier of administrative
fines. This could mean a fine of
20 million, or 4% of your
total worldwide annual turnover,
he Frama Rmail platform provides
a solution to a specific aspect of
What is GDPR?
GDPR compliance, regarding the
secure transmission of sensitive
personal and financial data.
simple and accessible, for both
your business and your recipients
using ironclad protection.
Frama Rmail uses 256-bit AES
encryption with options for secure
end-to-end delivery ensuring that
your message will only be read by
Unlike other encryption services,
Frama Rmail provides true direct
delivery of your encrypted message
and attachments in to your
Your recipients will not need
to register for an account, open
a web browser or otherwise leave
their inbox to access your secure
If you are required to encrypt
personally identifiable information
under the GDPR requirement,
compliance is only half of the
requirement. The other half is legal
proof. Your registered receipt record
serves as legal proof of compliance
and can prove that you have met your
obligations should a dispute arise.
For further information or to speak
to an email security professional,