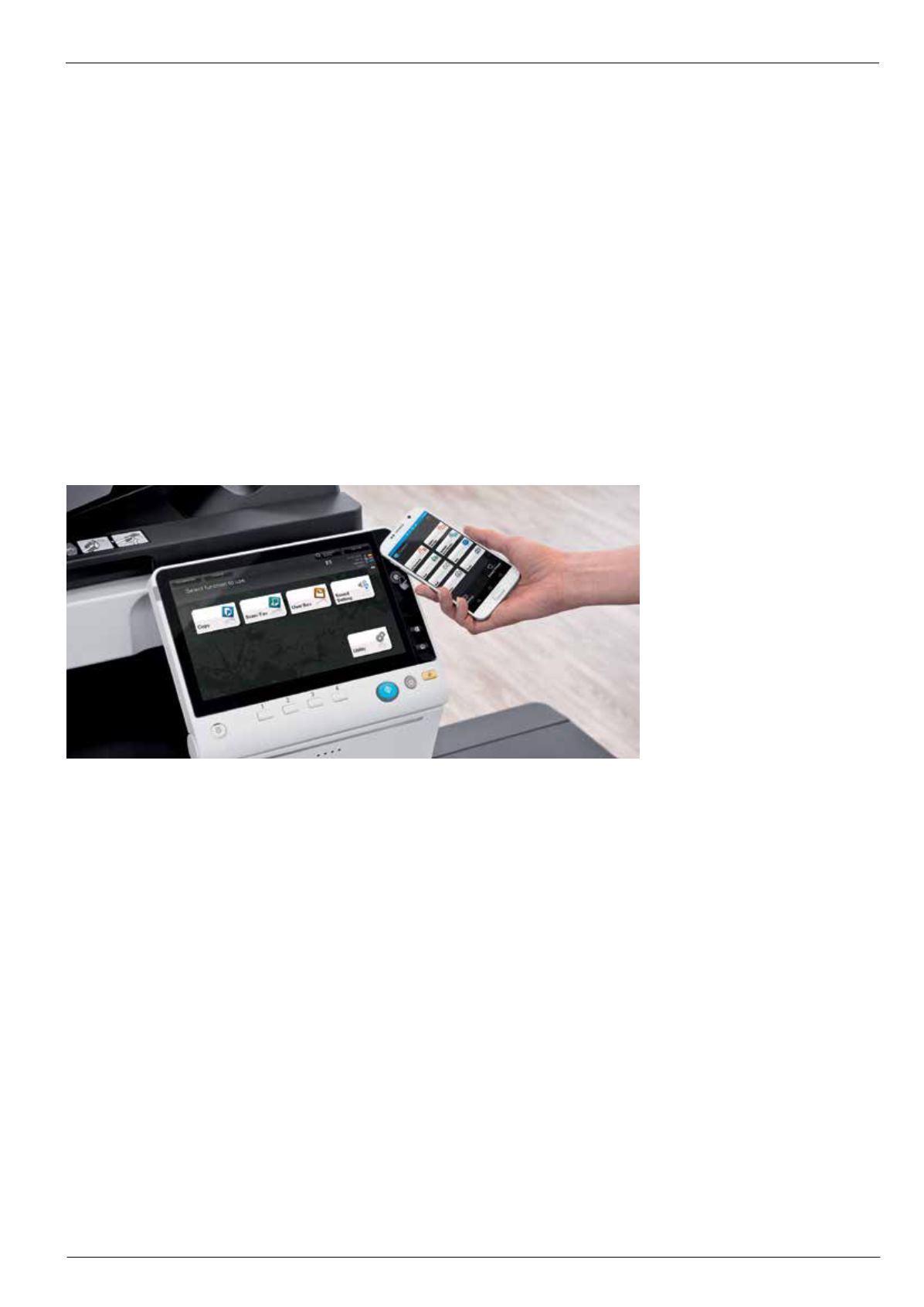 The multi-award winning Develop
entry-level printers to colour
multifunctional devices (MFD) and
high speed digital presses. The
recent growth and success of the
brand is built on quality because
the Develop range is actually
ultimately manufactured by Konica
Minolta, putting the Develop range
at the forefront for design, build-
quality and technical excellence.
In addition to outstanding print
quality, Develop ineo devices feature
cutting-edge design and market-
leading environmental credentials, as
well as state-of-the-art data security
and mobile connectivity and a range
of time-saving software solutions.
An outstanding feature of
Develop devices is their incredible
ease of use. Operation is simple
using the ineo MFD touchscreen,
which supports functions such as
drag & flick and allows users to
finger-swipe their way through the
menu, while pop-ups ensure users
don't get lost in any submenus.
Since the full-colour display is as
big as a tablet PC, it is easy to
read, clearly arranged and allows
users to see all the functions they
An MFD is a powerful business
asset, but left unsecured, MFDs
and network printers remain a
critical source of vulnerability! That
is why Develop has introduced the
service, a trained service technician
will configure the security settings
of a Develop device to maximise the
security benefits for that particular
customer's requirements, providing
peace of mind that the information
on their Develop ineo MFD is secure.
A comprehensive suite of security
, including protection of the hard
drive of the MFD, to encrypt data,
In the fast-moving world of office technology, Develop may not be the first
brand name that comes to mind, but Develop is actually now one of the
market-leading brands for colour printers and copiers, featuring significantly
in the top-ten sales figures for the UK market. And now, as Official Imaging
Partner of top division new boys Huddersfield Town, the brand really has
joined the Premier League!
prevent unauthorised access and to
delete and overwrite data as soon
Following completion of the
uniquely numbered certification label
is placed on the front panel of the
MFD, providing visual evidence so
that all users can be confident that
any sensitive data passing through
the device will stay confidential.
Glenn Kershaw, Develop's UK
Marketing Manager, comments: "The
threat to IT infrastructures posed
by hackers and malware has risen
significantly in recent years. Whereas
companies spend huge amounts
on security technology, they often
neglect the huge amount of data
residing in and processed by their
multifunctional office devices. Yet
data, and in particular sensitive data,
are one of the most important assets
any company can have. We are
to minimise help the risk."
Develop offers the award-winning
for Android and iOS mobile devices.
Providing the administrator has
given access to the mobile user to
use the network, this app provides
extremely simple connection to the
MFD; individuals can walk up to any
ineo device, scan in the QR code
displayed on the home screen, and
The ineo range also includes
Communication). The systems'
capability means a mobile device
can be used to provide secure
print release, replacing traditional
authentication tools such as PIN
Mobile workers are no longer
tied to their desks. They use smart
phones and tablets, as opposed
to laptops, whilst on the move, but
still expect seamless integration
into workflows for both printing and
scanning of documents. Develop
MFDs have been designed to
provide uncomplicated mobile
usability. Of course, the Develop
MFD series support both AirPrint
for Apple devices and Mopria for
devices running Android 4.4 or
higher, but these provide only limited
functionality, which is why Develop
solutions extend even further.
Develop also offers a direct