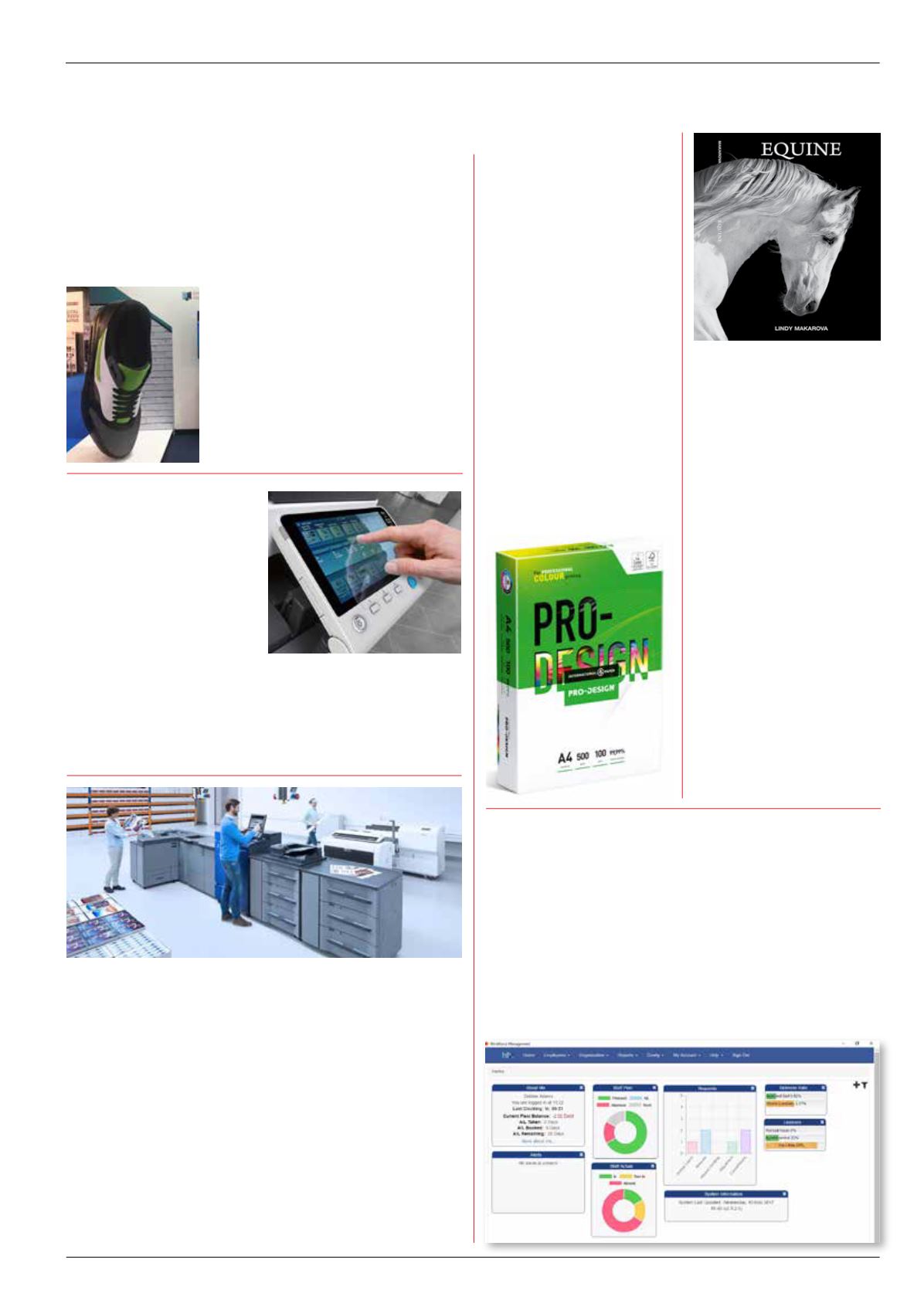 what's new
This larger than life, 2-metre sports shoe
was 3D printed by Dekom 3D Plus, based
in Switzerland. Produced as a concept
piece to demonstrate how 3D printing
enables sports brands to add impact to
their marketing campaigns, the shoe was
printed in two pieces on a Massivit 1800
3D Printer in just under 24 hours. Once
printed, it was filled with expandable foam
and decorated with a combination of self-
adhesive vinyl, textiles and paint.
Be secure
DSales (UK) Ltd has introduced
a new service to help customers
secure their Develop ineo
MFPs. With ineo SECURE UK, a
trained service technician will
configure the security settings
of a customer's MFPs to meet
their specific needs and label
the machines to show they
are protected. Security features include HDD lock to prevent
unauthorised access; an HDD encryption key so that data can be
stored in a password-protected partition on the MFP hard drive;
HDD overwrite to obliterate temporary data as soon as a print job
is completed; and configuration of the HDD automatically to delete
a job in specified user boxes, system boxes and folders.
Cloud-based access control
Workforce time management solutions provider hfx has
developed a cloud-based Access Control solution that enables
organisations of all sizes to manage staff time more effectively.
hfx Access Control can be used as a standalone solution or
be fully integrated with Flexitime Management, Vanquish T&A,
Everyone Cloud and other third party solutions. Door access
control devices can be used with biometric (fingerprint) or
proximity readers, with details of who can pass through which
door stored locally so that should the network fail, the doors
will still operate. A copy is backed up in the cloud with location
details for each member of staff, providing an accurate roll call
Bolder colours
Fifteen years after introducing
quality paper for professional
laser printers, International
Paper has re-formulated it to
provide the same quality on
high speed inkjet printers,
including office and production
devices. ColorLok technology,
incorporated into the paper
locks ink pigments to the
surface, resulting in more
vivid colours, bolder and
sharper blacks, faster drying
and reduced smearing. PRO-
DESIGN is suitable for all
finishing treatments, from
stapling, perforating, folding
and binding to laminating,
White toner
Xerox has introduced a White
Dry Ink for the fifth print station
The new colour will enable
print providers to add special
textures and finishes to printed
work, such as a snowflake
with textured details, a book
cover with a white horse on
a dark stock or a clear vinyl
window film with white text.
Jim Hamilton, group director,
Keypoint Intelligence InfoTrends,
said: "Designers will love the
ability to use white on coloured
and transparent substrates
to create promotional items
cards, greeting cards and
invitations, point-of-purchase
signage, book covers and direct
mail postcards and letters.
The opportunities extend to
packaging applications like
If the boot fits
Simply efficient
Konica Minolta has introduced a series of 'simply efficient'
colour production printers for print rooms that are new to digital
printing and for more experienced print providers with large,
repeat print volumes. The AccurioPress C6085 (85ppm) and
C6100 (100ppm) include a high level of automation, such as
automatic colour adjustment, skill-less operation and constant
control of gradation and front-to-back registration. Karl-Friedrich
Edenhuizen, Product Manager, Production Printing Group, said:
"Graphic communication providers, CRDs and Print for Pay
operations will all benefit from these simply efficient presses.
The Integrated Color Care Unit overcomes some of the biggest
pain points in digital print production, such as time-consuming
front to back registration, extensive colour set-up and complex
paper set-up operations."