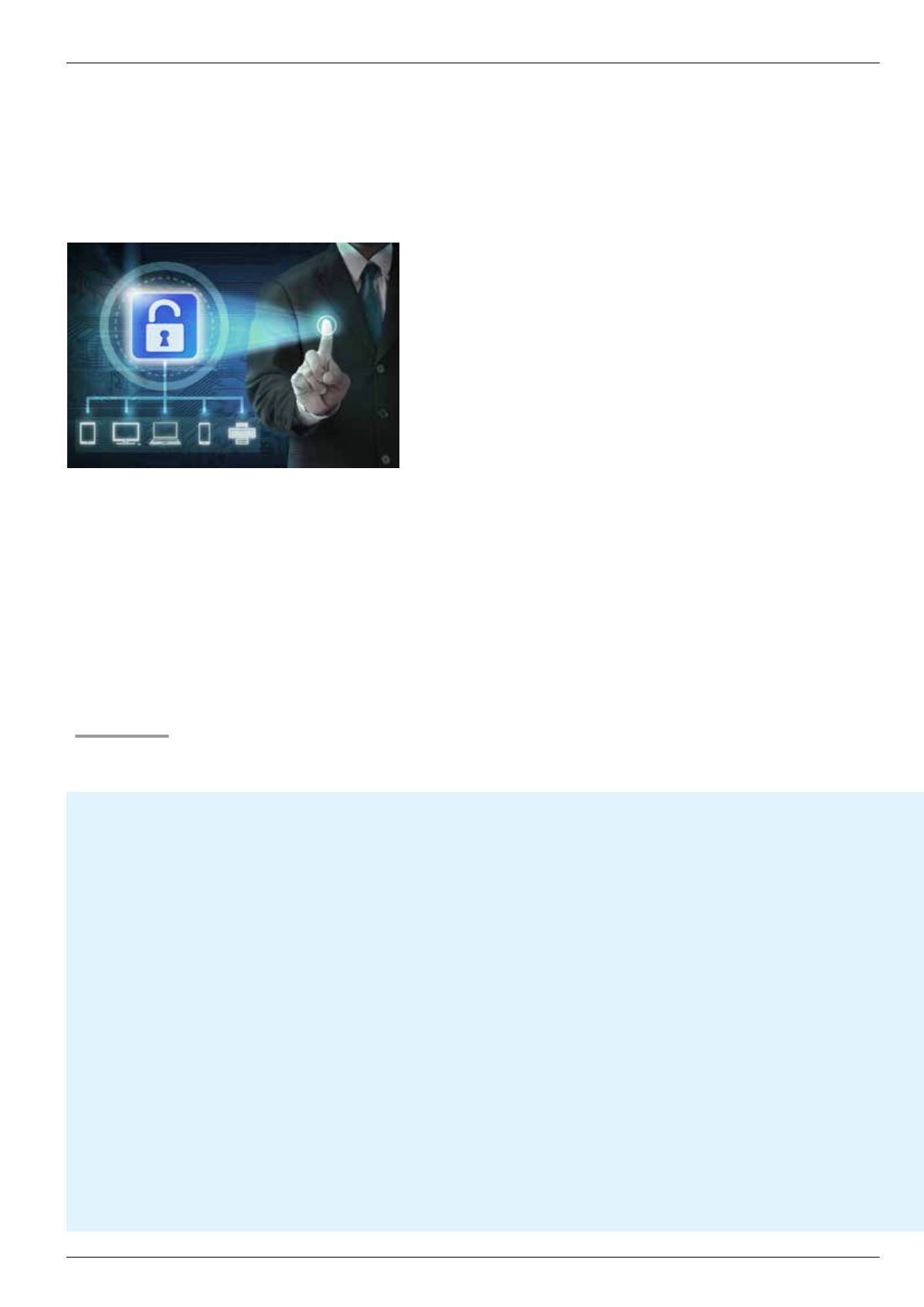 Document Solutions finds UK
public sector organisations are
unaware of, and unprepared
for, the implications of the
EU's forthcoming General Data
Protection Regulation (GDPR).
Cyber security is one of the
biggest challenges facing the
public sector today, and crucial to
this is making sure that sensitive
information can't be accessed by the
wrong person. Traditionally, printers
and MFPs have been overlooked
when it comes to implementing data
security strategies. However, this is
now changing, as legislation like the
How vulnerable are your MFPs?
To help counter the lack of preparedness
for GDPR amongst UK organisations
(see above), KYOCERA Document
Solutions has launched KYOCERA
Developed in the UK by KYOCERA's
product development team, SecureAudit
provides a simple way to scan KYOCERA
MFPs for security vulnerabilities, such as
default admin passwords and open ports.
Eddie Ginja, head of innovation at
KYOCERA, said: "Just like other IoT
devices, our printers are now connected
to the Internet, as well as corporate
networks, creating a massively expanded
Recent research by Quocirca
estimates that of the millions of business
printers in the world, only 2% are secure,
with as many as 63% of businesses
surveyed experiencing one or more print-
KYOCERA SecureAudit will be offered
within KYOCERA's suite of application
software, powered by HyPAS.
Other KYOCERA security solutions
include biometric identification; user
authentication, such as Net Manager,
which only releases print jobs once a
user has identified themselves at an
MFP; data encryption; data overwriting
processes; and automatic deletion
GDPR a challenge
Business analytics company SAS
warns that with the deadline for GDPR
compliance looming, less than half of
organisations (46%) have a structured
plan in place. As many as 58% of
organisations are still not fully aware of
the implications of non-compliance.
Although GDPR makes organisations
accountable for personal data protection,
including how and where data is stored
and how it is processed within the
organisation, and gives individuals the
right to request that their personal
data be erased or ported to another
organisation, 48% of those questioned
said finding personal data within their
own database would be a challenge.
Management, SAS UK & Ireland, said:
"Businesses need properly to assess
all their risks, mitigate the risks they
uncover and be able to demonstrate what
action they have taken to achieve this.
The challenge is they often don't know
where to start because of the scale and
He added: "Companies cannot get
the assurance needed that what they
are doing is definitely the right course of
action, because while the regulations set
out what needs to be done they do not
prescribe how you go about it."
SAS has published further details of
Print security revealed as public sector blind spot
EU's forthcoming GDPR places new
obligations on organisations.
To gain an understanding of the
key priorities, trends and challenges
facing public sector bodies as they
strive to balance the need to make
their print environment secure and
compliant with the need to boost
efficiency and drive down IT costs,
KYOCERA Document Solutions and
iGov Survey recently surveyed 161
public sector organisations.
The survey focused on key
concerns relating to print and
multifunctional device management,
such as whether organisations have
a secure printing strategy in place
and how they aim to keep their print
Over half (59%) of those polled were
aware of the implications of GDPR for
their organisation. Yet, only 34% had
conducted a personal data impact
With the implementation of GDPR
now less than a year away, and with
the public sector continuing to shift
towards electronic delivery, this
shows that there's still a lot of work
to be done in order to avoid fines
20m or 4% of annual turnover
(whichever is greater) for the most
Seven out of 10 organisations
believe they have a complete
overview of their current document
and print environment. Just 6% of
participants are concerned that
their current solution isn't meeting
user needs, compared to 73% who
feel well prepared to meet their
obligations around document and
More than three quarters (82%) of
respondents cite cost reduction as
a key consideration in relation to
their current print and multifunctional
device management solutions,
compared to 55% who cite security
concerns around access and data
Other drivers include: boosting
efficiency (49%); environmental
considerations (55%); legislative
issues (23%); ensuring the solution
is easy to use and access (60%);
consistency in delivery (35%); and