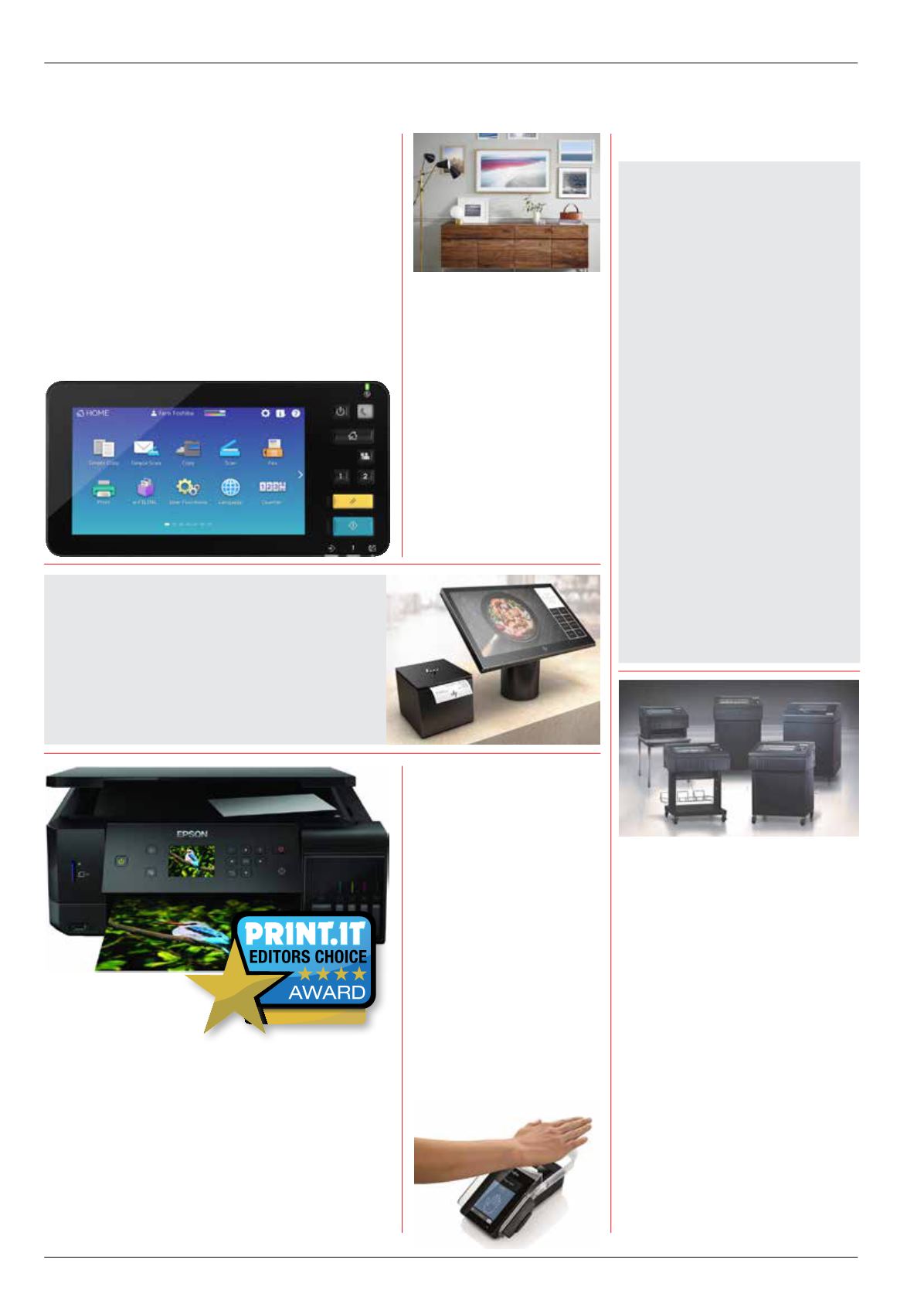 No print server
required
ThinPrint has launched a server-less
print management solution that
migrates print management to the
cloud, while enabling secure printing
to take place locally, even when the
computer is offline. Thorsten Hesse,
chief product officer at ThinPrint,
says that by eliminating the need for
on-site infrastructure, ezeep Dash
enables companies of all sizes to
make significant savings. "As Gmail
makes the mail server unnecessary
and Salesforce makes the CRM
server obsolete, so ezeep Dash
means print servers are no longer
required," he said. Administrators
can use the cloud portal to define
printers and assign employees or
groups. Everything else, including the
installation of drivers, driver updates
and adjustments for changes to IP
addresses, are automatically taken
care of by ezeep Dash and agents on
users' machines. ezeep Dash costs
0.57 per user, per month.
Expanded colour range
OKI Europe has expanded its product range with new
A3 colour MFPs designed for corporate businesses with
large print volumes, tight deadlines and a requirement
for high quality, 1200 x 1200 dpi output. Ideal for
producing reports, white papers and booklets as part of
the day-to-day workflow, the ES94x6 MFP Series features
a 9-inch, tablet-style, customisable touch screen and
full finishing capabilities, including an inner finisher and
inline multi-staple and saddle stitch finishers. Options
include server-less pull printing, embedded OCR and
an embedded card reader. The series includes two
models, the ES9466 MFP (35ppm) and the ES9476 MFP
In the frame
The Frame from Samsung is
a 55-inch Ultra HD TV that
can also be used to display
artworks from a built-in gallery.
Developed in collaboration with
Swiss designer Yves Behar,
the screen can be customised
with a choice of magnetic
Frame Bezel surrounds (walnut,
beige and white) and comes
with a no-gap wall mount for
flush mounting. A transparent
connection cable pairs the
Frame with the One Connect
You're so vein
The Fujitsu PalmSecure ID
Match is now available from
Review Display Systems. The
secure identification terminal
matches the unique pattern
of veins in a user's hand
with a biometric template
stored on an individual smart
card, thus eliminating the
need for a central database.
capacitive touch screen, an
embedded processor board, a
multi-card reader and Fujitsu's
technology, the terminal can be
used as a standalone or wall-
mounted device or integrated
Versatile POS system
The new HP ElitePOS is a versatile, modular, all-in-
one point-of-sale (POS) system that also supports
interactive signage, employee attendance and
self-service applications like customer check-in. For
versatility, the display can be separated from the
input/output (I/O) base and expanded with optional
accessories such as a receipt printer, magnetic
stripe reader or barcode scanner.
Cartridge-free
printing
Epson has launched a new generation of EcoTank
printers. Unlike traditional inkjet printers, EcoTank
devices have extra-large ink tanks containing up to three
years' worth of ink. They cost more to buy but have very
low running costs and require minimal user intervention.
For the first time, Epson's range includes two five-
colour models for high quality photo printing. The new
generation has a more compact footprint and improved
ease of use, with mess-free refills and ink tanks on the
front of the device so that you can see ink levels at a
glance. Prices start at £249.99.
Printer scrappage scheme
Datatrade has launched a 'scrappage
scheme' for legacy warehouse
printers from Mannesmann Tally and
TallyGenicom. Until December 29,
2017, it will offer trade-in payments to
businesses that upgrade selected legacy
printers to more efficient TallyGenicom
6800 devices. Datatrade managing
director Peter Laplanche said: "A bit
like the scrappage scheme promoted
by the automotive industry to take
polluting vehicles off the road, our trade-
in programme aims to take out older,
ineffectual industrial printers and replace
them with more efficient line matrix
devices. The latest machines offer a
20% improvement in consumable cost
per page when compared with the
previous generation line matrix
spool ribbon." To find out more, call