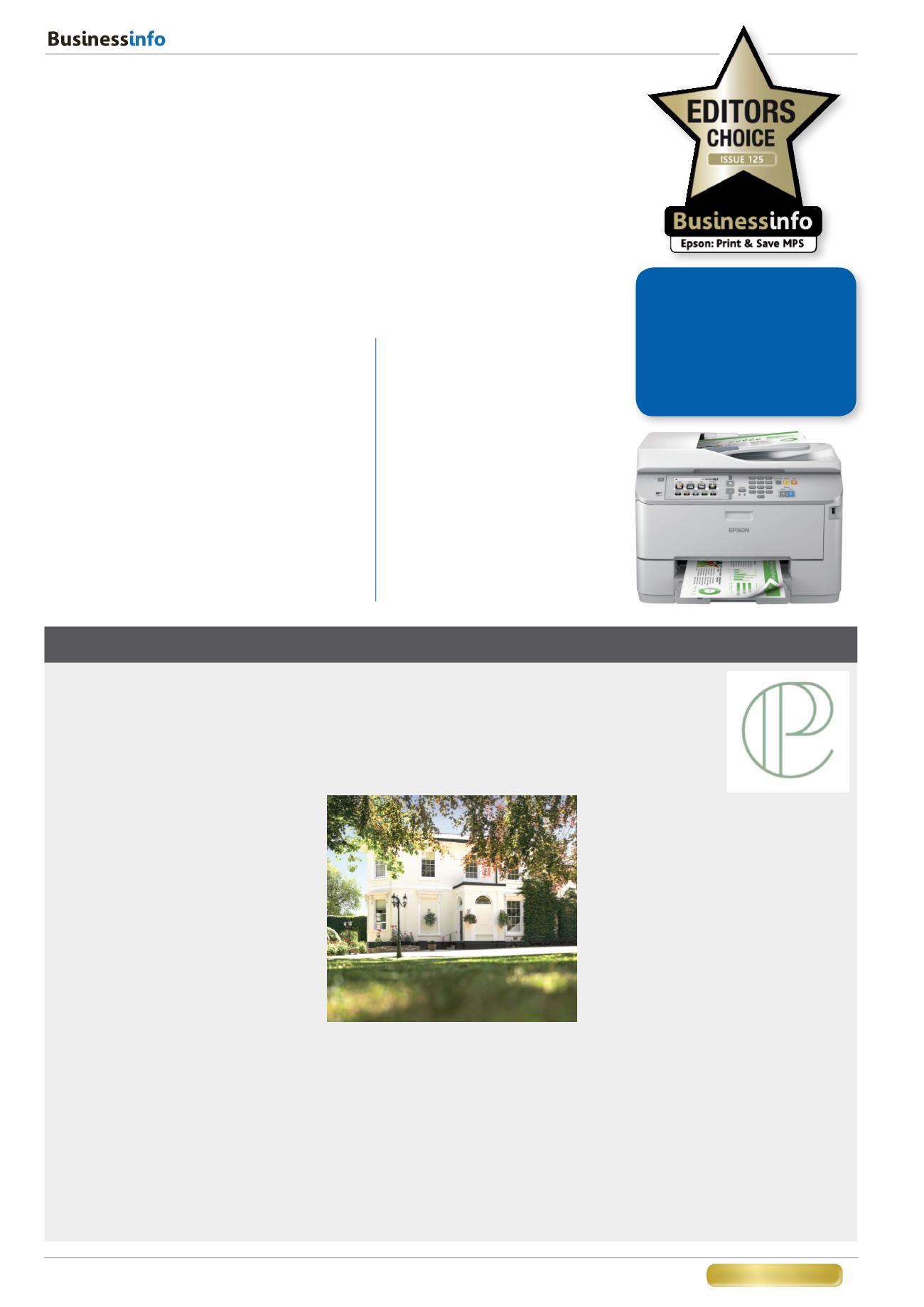 Editor's Choice:
Business Info
What we liked:
• greater visibility and control
Print & Save is a managed print
service (MPS) package from Epson.
The three-year contract, with one
fixed monthly payment for supplies,
service and equipment leasing,
works out to be more cost-effective
than buying supplies and service
cover separately.
An Epson reseller helps the customer
assess their monthly ink and print volume
and future printing requirements to
determine the supplies needed and to
calculate the fixed monthly fee for the
three-year period. They then supply the
chosen printer and initial supplies to the
A pre-determined amount of printing
supplies, based on a customer's average
monthly printing habits, are stored in
Epson's logistic centres and delivered when
they are needed. An online portal makes it
easy to keep track of print usage and order
The package includes Epson WorkForce
Pro business inkjets, AcuLaser laser printers
and SureColor large format printers that are
suitable for POS, signage, textile, photo and
Epson's full on-site service warranty
for the entire three-year contract provides
prints & saves with Epson
In a recent survey for
PrintIT
magazine,
we asked leading lights from the
manufacturer and reseller communities
to highlight what they saw as the main
purchasing criteria for printer buyers
in 2016. Top of the list came total cost
of ownership. Instead of looking only
at the initial purchase price, SMEs are
increasingly looking at lifetime running
costs. This trend is fuelling interest
in managed print services (MPS) that
typically promise cost savings in the
region of 30%.
One SME that has benefited greatly from
a new managed print service is residential
care home business Peverel Court Care based
in Buckinghamshire. Its new MPS with Epson
has saved the company so much money that
it has been able to make renovations to its
buildings, invest in social media marketing and
implement a new incentive scheme for its 200
staff. In the future, it may even use the savings
to create a cinema for residents.
Savings have come not only from the
greater visibility and control that an MPS
provides, but also from the replacement of its
existing HP and Canon laser printers with a
fleet of 10 economical EpsonWorkforce Pro
WF-5690DW multifunctional business inkjets.
By capping cartridge expenditure at £290
per month, compared to the £800 spent
previously, Epson's Print & Save MPS is saving
Peverel Court Care more than £500 a month
or £6,000 a year. Further savings come from
reduced energy consumption, as Workforce
Pro MFPs require 80% less power than
competitive laser devices.
Preet Shergill, Associate Manager for
Peverel Court Care, said: "Previously, we
were spending a relatively large sum on laser
printers and ink and, as someone involved
with financial administration, I could see
first-hand the impact this was having on
the Group. Now, with the savings we're
accruing, we're able to think about expanding
operations and exploring exciting new
avenues, like adding a projector-based cinema
Printing is an essential function at Peverel
Court Care. As well as outputting large numbers
of letters, correspondence and administrative
documents at its head office, it prints
personalised care plans for residents at each
of its three care homes, which it distributes to
relevant staff in hard copy form. Print & Save
enables Peverel Court Care to continue to use
paper where it is most effective, without the
worry of uncontrolled print costs.
Epson business inkjets save
care home £6,000 a year on
cartridge costs alone
Printing
supplies
are stored
in Epson
logistics
centres and
delivered
when needed