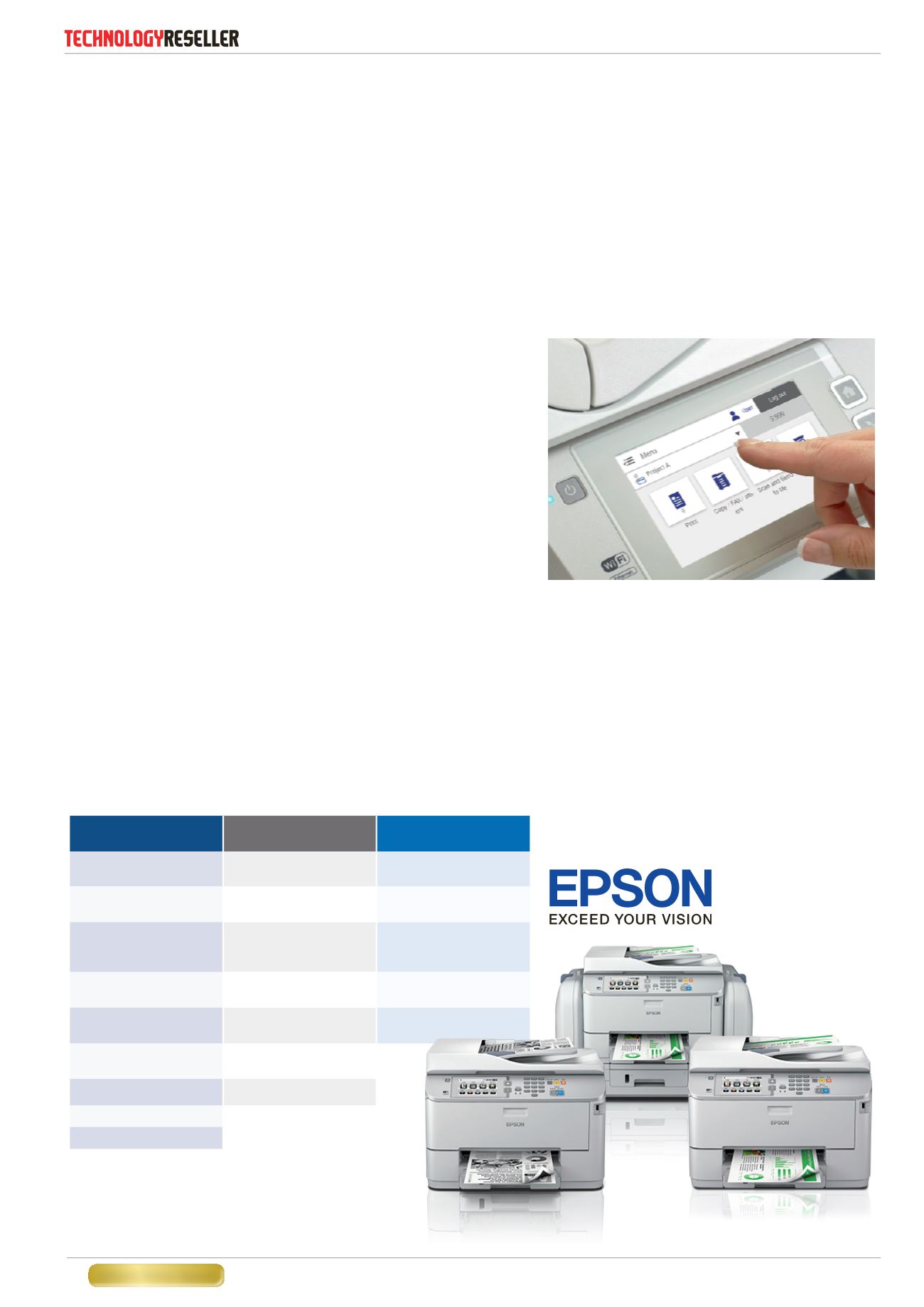 New software adds security
and efficiency to Epson scan and
print environments
Offering secure access control with pull-printing, Epson Print Admin streamlines user processes
while promoting cost-reduction and environmental responsibility
copying environment. Once authenticated,
employees benefit from a personalised
user interface on compatible devices so
they spend less time looking for the right
functions and more time getting things
Notifications can be set up to educate
users about responsible printing. That
way, you can discourage users from
unnecessary or wasteful full-colour printing
at the point of print job creation. Built-in
cost-saving rules and personalised scan
workflows at the touch of a button ensure
that companies gain full control of their
print and scan documents.
A large array of reports and analytics
provides complete transparency, enabling
businesses to tailor their printing rules
to drive cost-effective, low-waste printing
behaviours. When it comes to tracking,
and cutting print costs, the ability to
allocate billing codes and match print
usage to cost-centres ensures easy budget
Peter Silcock, business manager, Epson
UK, says: "This builds on our successful
strategy to offer an end-to-end solution for
businesses. Alongside our Open Platform
architecture for our business inkjets, our
fleet management solution, Epson Device
Admin, and our managed print service for
SMEs, Print365, we have extended the
range of value-added print services we
offer to businesses with cost-saving and
Epson Print Admin is available now.
Please contact your Epson local reseller
for more information or visit
Epson is stepping into the world of
print management software with Epson
Print Admin. This server-based solution
allows SMEs and large enterprises to
strengthen document security with user
authentication on devices and to take
control of their printing and scanning
costs. Epson Print Admin is intuitive
to use and designed for easy remote
management, integrating with existing
architecture and devices smoothly so
compatibility is assured.
Any customer can evaluate this
innovative solution at no licence cost for
up to two devices. Additional licences are
available for one, five, 20 or 50 devices
for maximum flexibility. Epson Print Admin
allows users to leverage the benefits
of Epson's award-winning business
inkjet technology, which is designed
to help businesses cut their waste,
energy consumption, CO2 and ozone
emissions, as outlined at
User profile authentication protects
against unauthorised use of your devices,
creating a secure printing, scanning and
Benefits for installation &
Benefits for user productivity Benefits for administrators
Deploy centrally, administer
Authentication with ID Card,
Login/Password or ID Number
Wide compatibility with Epson
Personalised MFP interface
Monitor employees actions
Utilise compulsory rules for
users to save money and cut
Wide range of card readers
Easy to evaluate with freemium
Direct access to personalised
Easy integration into any IT
Wide language support for
Status control by employees
OS Server system compatibility