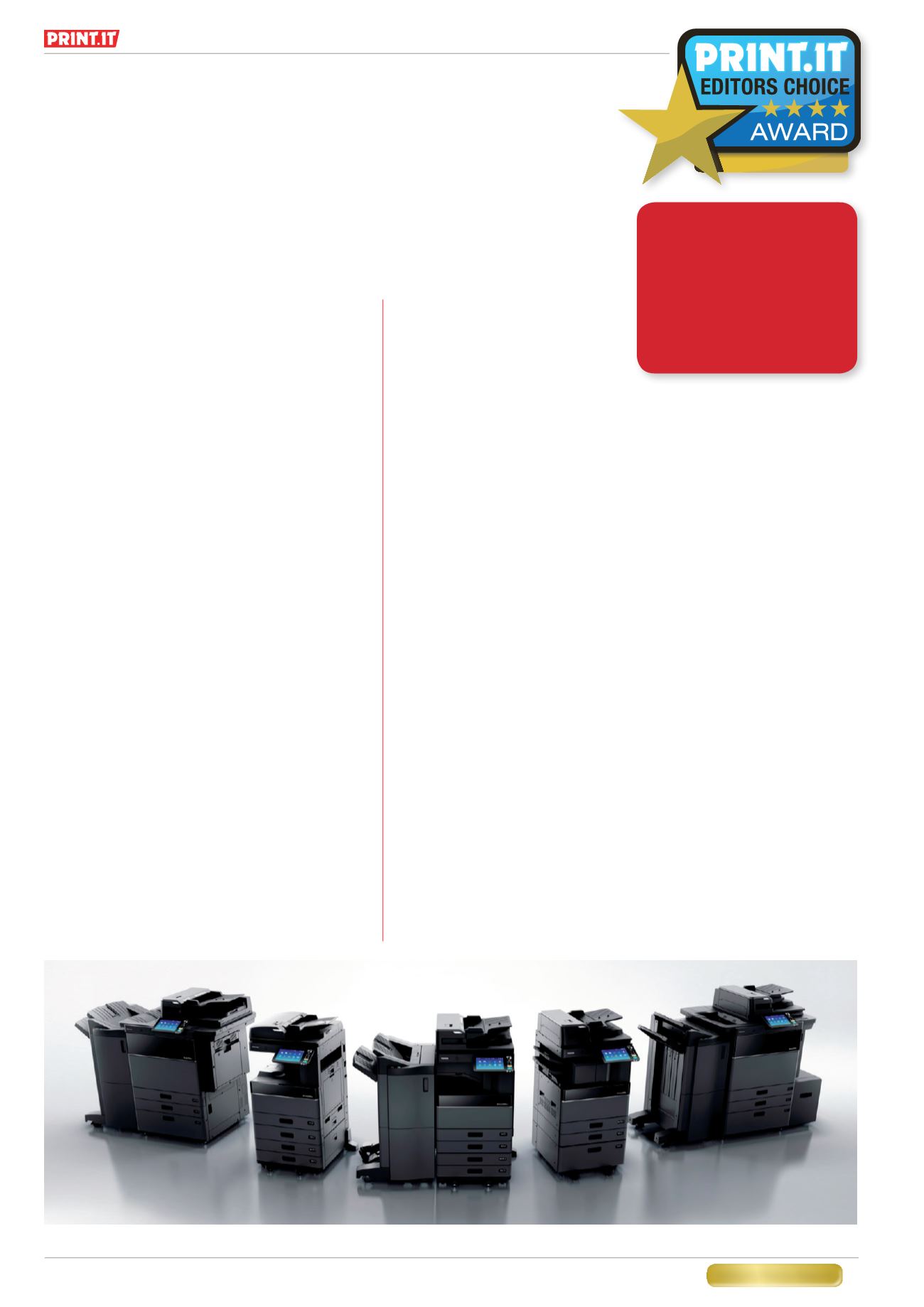 In response to growing demand for
customisation and integration with
business workflows, Toshiba TEC
introduced the 12-strong e-BRIDGE
Next range in 2016.
MFPs includes seven colour models
( e-STUDIO2500AC series and
e-STUDIO5005AC series) and five mono
machines (e-STUDIO5008A series). All
offer printing, scanning and copying as
standard, with a wide range of additional
features and enhanced solutions such
as fax integration, optical character
recognition (OCR) and pull-printing.
Designed with ease of use in mind, a
9-inch tablet-style user interface provides a
familiar experience and intuitive operation.
The interface can be customised to suit
individual preferences and working
requirements, with simple, one-touch
shortcuts for frequently used workflows, no
Ideal for use in busy offices, the models
are reliable, versatile and deliver on
Toshiba's promise of 'Together Information'.
Based on the belief that the most
successful organisations are those that
communicate in the most effective way,
Toshiba's vision is to make this possible
through an integrated portfolio of industry
specific solutions that reflect Toshiba's
commitment to the environment.
All of the new models benefit from
Toshiba's latest e-BRIDGE Next controller
technology, developed with the user
in mind to simplify integration into a
customer's IT infrastructure and workflows,
including support for cloud and mobile
printing via AirPrint, Google Cloud Print
or the Mopria Print Service. Optional
connectors provide direct access to
Microsoft One Drive, Google Drive and
Deyon Antoine, product manager at
Toshiba TEC, said: "The new e-BRIDGE
Next range has been well received in
the market. The enhanced functionality
and new tablet-style touch screen have
enabled users to work more efficiently and
effectively. With the new sleek black look,
many users are saying the machines look
more modern – the perfect fit for the office
"We're committed to collaboration
with our clients, producing tailored,
cost-effective solutions that meet their
document and information management
needs. The e-BRIDGE Next range helps
us enhance our offering in ways that can
really make a difference to how businesses
A Dual Scan Document Feeder,
available on the e-STUDIO5008A and
e-STUDIO5005AC series, has a paper
capacity of 300 sheets and allows double-
sided scanning at speeds of up to 240
Another highlight is e-BRIDGE Cloud
Connect (ECC), a cloud-based service tool
for users of e-STUDIO MFPs. Launched in
2016, the secure solution enables resellers
to monitor devices remotely, correct faults
and automatically schedule in and carry
out firmware upgrades without having to
send out an engineer. Users benefit from
Versatility and customisation
Editor's Choice:
PrintIT
We're
committed to
collaboration
with our
clients,
producing
tailored,
cost-effective
solutions that
meet their
document
and
information
management
needs
What we liked:
• customisable and user-friendly
• large capacity document feeder
• improves business processes
increased uptime, with proactive device
status alerts and remote diagnostics;
reduced user workload with automated
meter readings and JIT (Just in Time)
replenishment of supplies; and enhanced
stability across users' MFP fleets, thanks to
Toshiba TEC's on-going commitment
to create a greener future is reflected in
the design and development of the MFPs,
which comply with leading environmental
programmes and standards such as the
ENERGY STAR and Blue Angel.
In addition, all devices in the new
range are delivered carbon neutral, with
all emissions from parts procurement,
manufacture and delivery offset through
Toshiba's Carbon Zero Scheme, at no cost
to the customer. In the UK the scheme
has now exceeded 100,000 tonnes of
carbon dioxide (CO2) offset, highlighting
the extent to which it has helped improve
the lives of people in some of the world's
Towards the end of 2016, the
e-STUDIO5005AC successfully completed
Buyer's Laboratory testing, receiving BLI's
'Highly Recommended' rating and seal
of approval. It has also been certified for
reliability after undergoing BLI's in-house