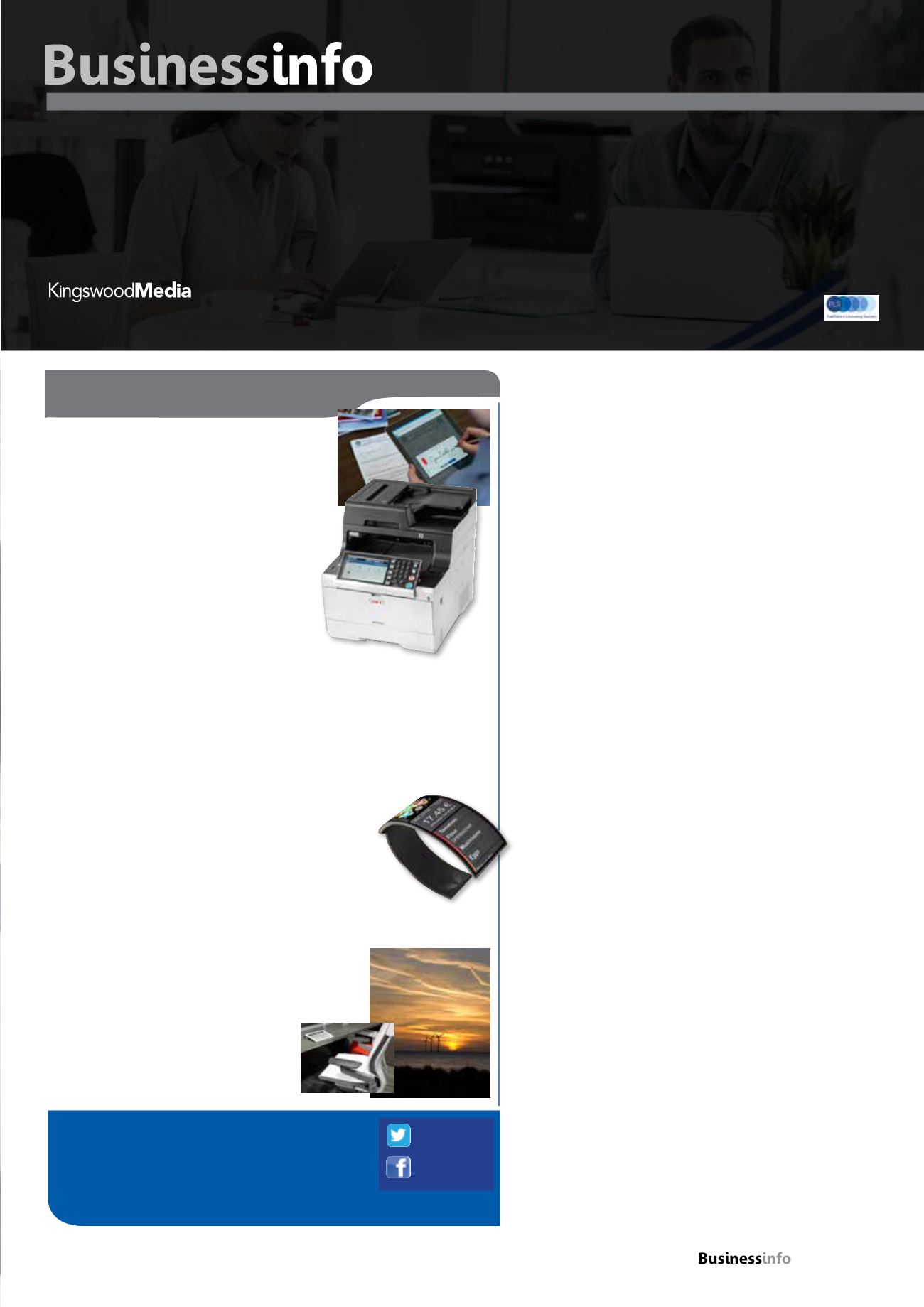 IN THIS ISSUE
05
Agenda
The high cost of outdated processes
12
App Update
New apps for business and leisure
16
Cyber Security
Why Cyber Essentials accreditation is
worth the price
19
Data Security
Secure alternatives to the password
24
Printers
CartridgeWorld unveils its new look
'showroom store'
25
Smart MFPs
OKI brings smart MFP functionality to small workgroups
26
Collaboration
New collaboration solutions unveiled at January's BETT Show
28
Telecoms
What the UK must do to improve its telecoms infrastructure
29
Displays
The rise of the huddle room drives growth for flat panel displays
30
Innovations
The month's best new products and services
32
Mobile Print
Toshiba helps hospital reduce time spent labelling
33
Office Seating
How technology is helping improve office workers' posture
34
On Test
Fighting RSI with BakkerElkhuizen's USB Compact Keyboard
36
Office Design
The UK's first WELL Building Standard office
38
Filing & Storage
Goodbye filing cabinet, Hello personal storage
41
Furniture
How to get staff moving in the office
42
The Month in Numbers
The world of work in numbers
Editor:
James Goulding
Advertising Director:
EthanWhite
Publishing Director:
Neil Trim
Group Sales Manager:
Martin Jenner-Hall
Social Media Manager:
John Peters
Art Director:
Nick Pledge
Editorial Assistant:
Tayla Ansell
Advertising Executive:
James Trim
is a controlled circulation magazine. Applications for free copies
will be considered upon receipt of a completed and signed reader info card
is available on subscription @ £40 p.a. to UK
companies or residents and @ £75 p.a. for non-UK subscribers.
The opinions expressed by contributors are not necessarily those of the publishers
who cannot accept responsibility for any errors or omissions.
magazine can be reproduced without the prior permission
of the publisher. © Copyright 2017 Kingswood Media Ltd. ISSN 1464-8814
Design: Sandtiger Media –
FOR THE LATEST INDUSTRY NEWS VISIT:
" "
As we go to press, Canada Life Group Insurance has released
a new report suggesting a 'link' between where you work
and your chances of getting cancer, or more specifically
between open plan offices and cancer risk factors, such
as over-eating, alcohol consumption, smoking and lack of
exercise. For critics of open plan offices, the findings make
interesting reading (though sensationalising the research by
linking it to cancer is in questionable taste). They show that
employees in open plan offices are more likely to have put
on weight since starting their current role (45% vs. 39% on
average); are more likely to overeat or eat unhealthily due to
workplace stress (48% vs. 42% on average); are more likely
to make unhealthy food choices at work (58% vs. 52% on
average). They are also more likely to smoke and frequently
go drinking with colleagues after work etc.. These findings
have many possible explanations and should be taken with
a very large grain of salt, but they do raise the question of
what constitutes a healthy workplace.
Which is exactly what theWELL Building Standard (WELL) seeks
to answer. Focusing exclusively on the wellbeing of a building's
occupants,WELL is concerned with aspects that impact human
health, such as air, light, food, water, fitness and comfort. The first
building in the UK and Europe to achieveWELL certification, the
London office of engineering consultancy Cundall, is the subject
of this month's office design feature on page 36. It is open plan,
but in a very healthy way.
One of the more conventional aspects of Cundall's design is
the large number of meeting spaces provided, ranging from the
traditional conference and meeting rooms to huddle rooms
and break-out areas. The growing popularity of collaboration
technologies is leading to a proliferation of meeting rooms, which
in turn is driving greater demand for large flat panel displays (our
report from the BETT Show on page 26 includes details of the
latest models, many with built-in interactivity and collaboration
features). By providing temporary respite from open plan working,
such spaces might not only improve decision-making but also
contribute to a healthier, happier workforce.
James Goulding
Comment
BUSINESS INFO
GET YOUR FREE COPY
To make sure you get every issue FREE, as soon as it is
'FREE Registration' button and add your details to our mailing list.
03
Kingswood Media Ltd., Amherst House, 22 London Road, Sevenoaks TN13 2BT
Tel: 01732 759725 • Email: