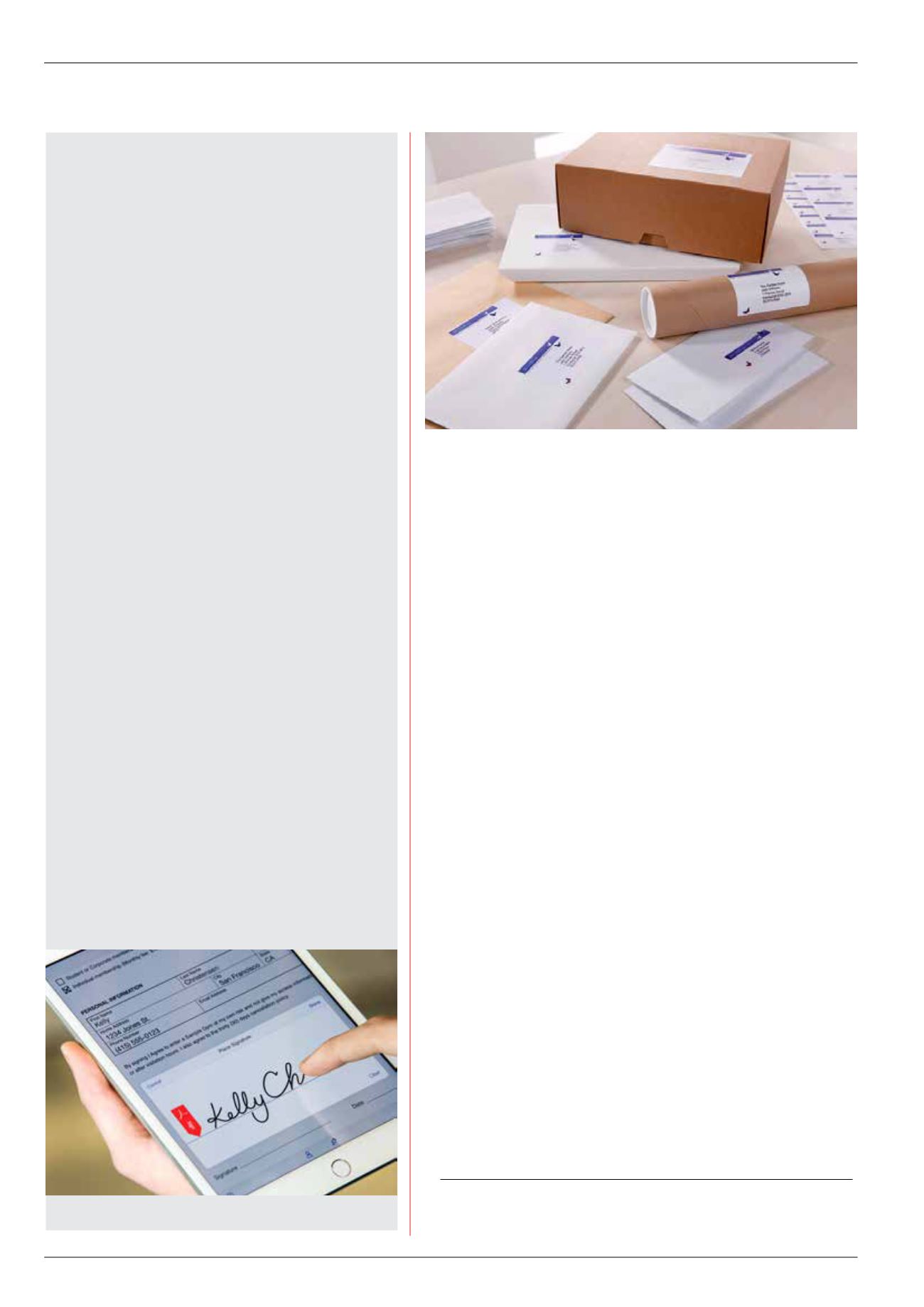 Not everyone prefers digital communications. As this selection
of recent research findings show, there are many occasions
when, and reasons why, a posted letter is still the best option
Wet ink signatures
still a major cause
of printing
Free e-signing services with every subscription
to Adobe Document Cloud is likely to be a major
attraction as the need to add a signature to a
document remains a major cause of printing.
According to research by ARX, a leading provider
of digital signature solutions recently acquired
by DocuSign, more than one third of all printed
documents are printed for the sole purpose of adding
The study by American City & County analysed
practices in US local and state government, but its
findings will strike a chord with readers on this side of
• 37% of all printed documents are printed for the
sole purpose of adding signatures;
• Nearly 30% of respondents say that more than
half the documents they print are output solely so that
• 42% of survey respondents say that collecting
traditional signatures using pen and paper delays
each signature-dependent process by 2-7 days. For
some, the delays are even longer;
• 32% of all respondents are already either using
digital signatures or are planning to do so; nearly
50% more say they see the need for them in their
• 95% of those already using digital signatures
have seen efficiency increases and 85% have seen
shorter turnaround times on signature-dependent
The factors that are most important to respondents
when selecting a digital signature solution include
security and integrity of sensitive data (88%); ease of
use (84%); control over user management/governance
policies (82%); and ease of implementation (79%).
The main reservations relate to security, control,
integrity and location of sensitive data (77%);
acceptance/legality of digital signatures (74%); and
compliance with regulations/audit requirements (63%).
7 out of 10 people prefer to receive legal or banking information in the
form of a letter. Just over one quarter of us are happy to receive such
information via email. Less than 1% think a phone call or text message
appropriate for formal communications.
Almost 50% of people prefer to receive sales information via a letter or
brochure, closely followed by email, cited by 42.8%. Less than 7% like to
receive sales information face-to-face.
Mail has a greater impact on the area of the brain associated with
long-term memory, indicating that printed communications are more
memorable. Mail has a 32% more powerful effect than email on long-
term memory encoding (LTME) – one of the key metrics for advertising
effectiveness – and a 72% greater impact than TV.
Mail also has a higher neuroscience engagement measure than
other media, suggesting that people interact with mail and absorb its
messages in a largely unconscious way. The neuroscience engagement
measure for mail is 33% higher than for email and 60% higher than for
People value something 24% more highly when they can see and touch
it rather than just see it.
A majority (57%) say that receiving mail makes them feel more valued;
only 17% feel the same about email.
Almost two thirds (63%) of consumers take mail more seriously than
People who receive bank statements through the post are more than
twice as likely to correctly identify how much money is in their account
as those who receive statements online (82% vs 32%).
Direct marketing campaigns that include mail are 27% more likely to
deliver top-ranking sales performance, and 40% more likely to deliver
top-ranking customer acquisition levels than campaigns without mail.
An average of 23% of all mail is shared between people in a household.
21% of promotions and special offers are shared.
Mail is kept in a household for an average of 17 days for advertising
mail, 38 days for door drops and 45 days for bills and statements.
2. Royal Mail MarketReach, The Private Life of Mail
3. Keep Me Posted, London Economics, Managing Money Online
4. IPA Effectiveness Awards Databank
Reasons to love mail
e-signing with Adobe Document Cloud